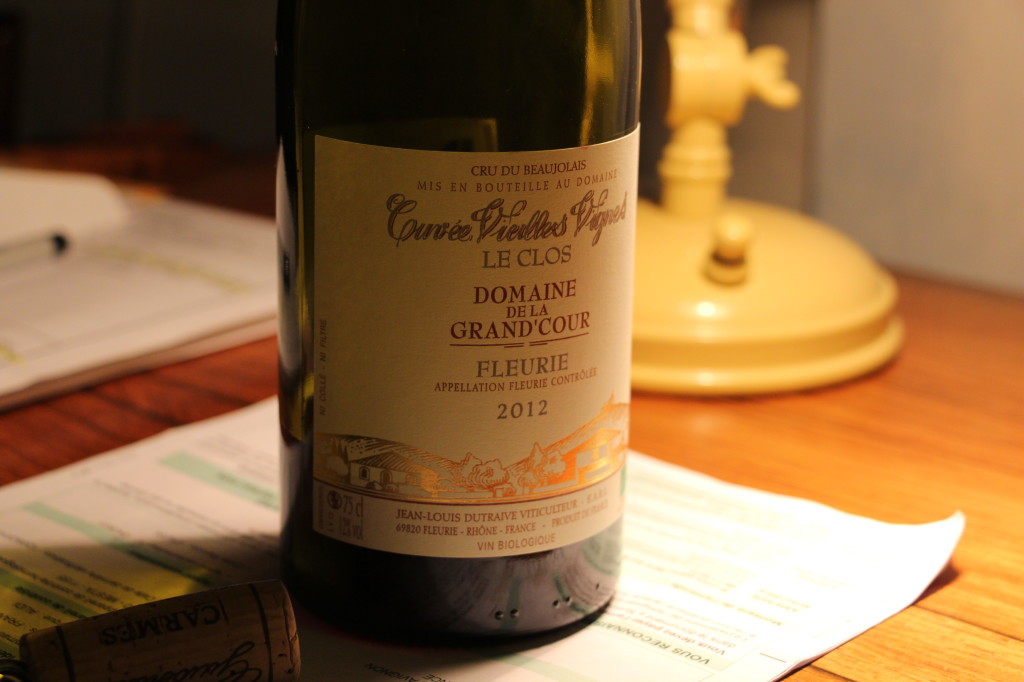 I was in New York for my friend's bachelor party two months ago.  I ended up spending a full week in the city in the midst of a blizzard and got a chance to hang out with an old friend, a sommelier I greatly respect. He used to live in Los Angeles, but he picked it all up and followed his heart to New York City; he went there for "the love of his life."   He's listed in my phone as ABCD-WXYZ.  I started calling him that because he loved wines that were extreme on both sides of the spectrum.  He loves the "Sine Qua Non" style and its antithesis too, you know, low-alcohol wines loaded with too much CO2, H2S, VA, Brett and too little SO2 – those are the ones they call "natural" wines.  He loved them equally and passionately.  Judge if you want, but I'll tell you that he is one of the most talented sommeliers I've ever met.  He has his own taste; you can debate him on it, but you're not likely to win him over.  He's a clever boy, but he's changing a lot these days, I think…  One thing that I really love about this guy is that he LOVES Beaujolais.  He even has more Beaujolais on his French wine list than wines from the Cote d'Or, which I find pretty awesome.  The guy's got a remarkable palate and I just downright respect the man.  Cool fiancée too!
Anywho, we went to the restaurant where he works.  Andrea was with me, along with my friends Jeff and Karen who also happened to be in the city.  Admittedly, I wanted to see what ABCD was up to since he downgraded the overall quality of LA sommeliers by moving.  I told him to pick some wines for our dinner that he was certain I'd never had before.  Blind.  Another good thing about this guy it that I knew he wouldn't waste my time with a bunch of geek-junk only worth tasting, but not worth drinking.  You see, he and I are drinkers, not tasters.  When it comes to wine, tasting does not mean knowing.  Believe me, there are lots of guys out there with a big roladex of tasting experience who don't know the first thing about how to drink the stuff.  He knows my taste and is fully aware of my disdain for super-funky or super-modern stuff; I like hands-off, but brains-on wines.  He put a bottle in front of me with a bunch of great charcuterie crafted in one of Daniel Boulud's restaurants.  The wine was a 2012 Jean-Louis Dutraive Fleurie.  It rocked my inner wine geek.  With the cold cuts, it was an eat-your-heart-out Schiava moment.  I know, douchey wine reference.
Another good friend of mine –a professional sommelier from the Saint Joseph wine area –put the concept of Beaujolais to me in a way I like.  Velour Rouge -that's the nickname I gave this one –said that there are three types of Beaujolais:  The first is fruity, cute and dumb, but not interesting. The second is a bit like young "natural" Syrah from the Ardeche; but excessively fruity, sexy and delicious -unapologetically delicious.  The third, made by guys like Jean-Louis Dutraive, are beautifully structured, sleek Burgundy, made in Beaujolais, but in a Cote d'Or fashion.
As I drank my first bottle of Dutraive that night,  I could see ABCD-WXYZ's excitement with each sip I took.  It was love at first sight for me and he knew it would be.  It was just like that with Chamonard (also introduced to me by ABCD) and Alain Michaud, two of my favs in Beaujolais.  I import Michaud, whom I adore and hold in the highest esteem in all of Beaujolais.  Despite numerous articles about him, Alain is one of the unsung greats of the appellation –mostly because the wines are not an en vogue flashy style.  Trust me, you'll know how great Alain's wines are after drinking mags from the mid-80's and 90's.  This bottle of Dutraive represented what, I feel, a lot of the "great" Beaujolais of today lack:  Class, restraint, finesse and master craftsmanship; it wasn't an "open-legged" Beaujolais either.  Don't get me wrong, I do love being smothered by the bosom of unapologetically fragrant and overly delicious wines made by the likes of Foillard or Metras; however, I totally fell for this wine from Jean-Louis because it was intelligently crafted and seductive at the same time.  Simply put, it was a lovely wine.
After dinner, we went to this Air B & B – first time, weird experience – that Andrea booked over in the lower east side.  I got straight on the computer.  Half cocked, I started to formulate a "drink and email" to Jean-Louis Dutraive, in French.  I was surprised at how easy it was to find his email address online and thought, "who was this easy-to-find genius that no one is importing to the US outside of New York?!"  I don't usually wax poetic in French on the first email, but I couldn't help but write to him about how much his wine moved me.  I popped the question about importation to California because I knew that Dutraive was only imported in New York, by Doug Polaner.  I respect what Doug has done in New York and he always seems to be ahead of the curve.  I wrote that email in the dark, at 1:30am  as my little little (my nickname for Andrea) fell asleep next to me.  I double-checked the French, hit send, and passed out.
Like a kid on Christmas morning, I sprung out of bed and grabbed my computer with high hopes.  There it was, just four hours after I sent him the message, he responded "…on peut essayer de voir cela ensemble, cordialement, JLouis".   I couldn't believe it.  I didn't expect such a quick reply.  It never happens like that, so I started to question the situation…  I tell this guy how much I love his wine, and then he offers me five different bottlings, plus magnums?!  I sent the list to ABCD-WXYZ.  He freaked out that I landed Dutraive in a matter of eight hours after tasting one bottle.  Dutraive may be his top favorite at the moment, granted he's only had his 2012s (I think)…  He was beside himself.  So was I, but something in my head kept me thinking that this was too easy, and maybe I had given this wine too much credit. If getting his wine is that easy, why is he not already spoken for?  After all, I drank a lot that night.
I'm drinking the 2012 Cuvée Vieilles Vignes while I write this.  It inspires me to write.  I literally just got it from New York yesterday in the mail.  I am aware of the risks of shipping shock, but I couldn't help myself, I had to have it.   Upon first smell, I thought, f$%k…, I made a mistake.  I don't mean a mistake by opening a clean "natural wine" that just had a five day trip from New York to Santa Barbara and landed yesterday, I'm talking about a major misjudgment.  Little Little smelled it, tasted it and said with a surprised curiosity, "it's a little… sparkly…"  I grimaced, and agreed.  Not usually my thing.
Here is that insecure moment as a young importer: Did I make a mistake in a moment of excess?  I remembered it being so damn delicious in New York!  Now I've told this guy I'll take whatever he'll sell me!
I don't subscribe much to decanting, so I impatiently waited it out, one sip at a time.  During the first 30 minutes, I began to accept that my enthusiasm, for what I was sure I tasted in New York, may have been a mistake.   I was swirling less and sniffing more, waiting for that moment that would take me back to the lower East Side in New York.  My mind kept saying that I should have waited a couple of weeks to drink it because of the shipping shock, but I just couldn't help myself.  Now I've ruined it…  no sleep for me tonight.  50 newly imported cases of closeouts coming up.
Well, just as it has happened countless times before, I began to smell the sound of a horn in the distance. Oh baby, she's a comin'!  The anxiety that built up while I was working my way through the first half of the bottle slowly started to fade away.  The tides had turned and I was starting to re-experience the glory of the wine I had in New York.  Halfway through this bottle, she started to show that glimmer of pure seduction.  Taking shape in my glass was not a wine from the Cote d'Or, but a precise and classy Burgundy made with Gamay that could rival some of the famous wines from the north. As the nostalgia of discovery came back, I started to clearly see that bulls-eye that I thought I hit back in New York.
I'm on the last half-glass now.  I am completely taken by the wine, despite its jetlag.  Perplexed by the wine's unique beauty, I find myself again short on descriptors.  It's getting late and it's been a long ride.  It's a completely different face of nobility from a grape that seems to have commonly found its place as the court jester of Burgundy.  This is a wine that doesn't really fit in today's supposed "great" and trendy Beaujolais wines.  Despite its crazy low yields and 70-year-old vines, it's unique, individual, unapologetically sleek, perfumed and feminine. I love it. I really do.  I can't wait to get my 50 cases and I'm pretty sure I don't want to sell a single bottle.
I'm on my last sip now…  It's really beautiful.  I should've been more patient.  It's funny how many times in life we make the same mistakes over and over again because we are impatient.  I can only imagine its taste if I had waited.  I guess I'll just have to keep my pants on for four more weeks before I start drinking the other five bottles that arrived with this one.