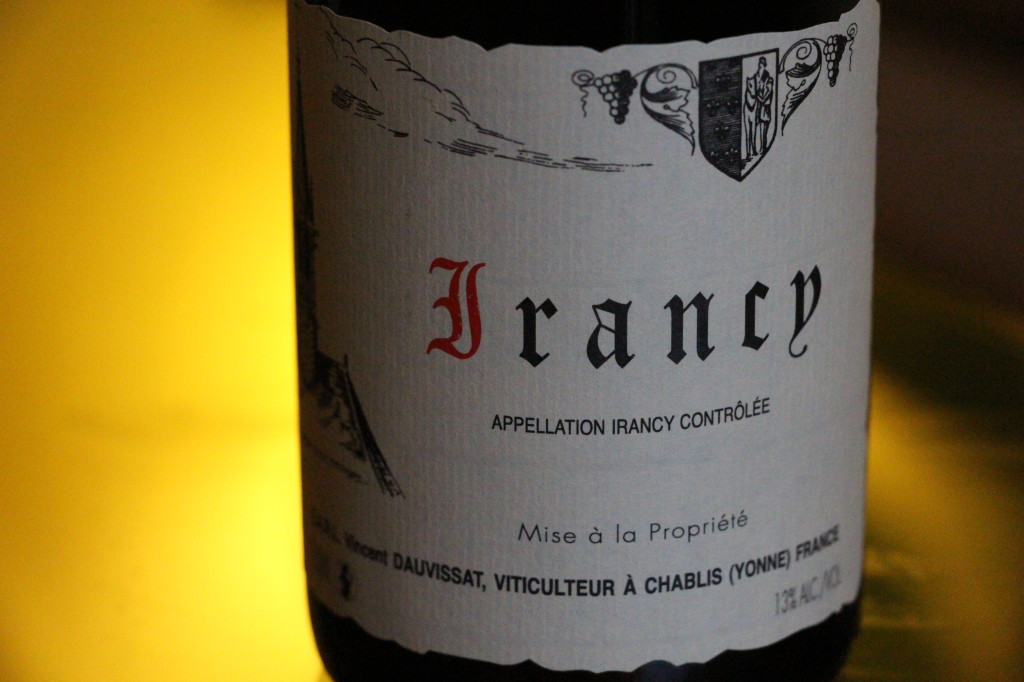 A couple of months ago, I finally got the chance to order some bottles of Vincent Dauvissat's Irancy, from a great retailer in New York called Crush.  Those guys really have it together –most of their offers are pretty hard to ignore. The Irancy has been here for a month now, so I decided to pull the cork tonight.  While Andrea and I were about halfway through dinner, I started getting the bug to get in front of my computer to release the pressure of these thoughts that were building up in my brain. It was becoming like a pressure cooker in my head, and she could feel it.  As soon as she gave me the signal I quickly finished my dinner, shot up and marched over to my desk with the bottle and glass in hand.  Sadly, I'm on the last glass and I'm a little bummed that it's almost over, especially now that I've just sat down to write about it.
For Vincent Dauvissat, Irancy is a bit of a side project: he's got a tiny little parcel there.  I'm not sure how long he's been making it, but I saw online that he's been doing it at least since the 2004 vintage.  He's a great Chablis producer, and one of my favorites.  I recently became interested in Irancy because of a wine I had with my Chablis producer, Gilles Collet.  To finally have the Irancy from Dauvissat imported to the US was exciting because it should bring a little bit of attention to this tiny Pinot Noir producing appellation, just west of Chablis.  I've been a little skeptical about Irancy; however, the fact that this one was made by Dauvissat made me believe that it should be, at the very least, good. I only dipped my toe in the water and ordered three bottles from Crush because I've had a lot of different Irancy wines over the last couple of years and all have been pretty dreadful, except for one producer –Thierry Richoux.
I had my very first bottle of Irancy on a freezing night in early 2011, in what must be the worst restaurant in Chablis.  Gilles Collet brought the wine for dinner.  I won't tell you what the place is called (there are only like six restaurants in Chablis anyways).  It's not the Kebab place, but it's just down the street…  Each time I come to town, Gilles takes me to this place.  He admits: "Ce n'est pas un bon restaurant, mais il est l'un de mes meilleurs amis."  Every time I go to this "classic" French bistro, I try to keep in mind that I don't come to Chablis for its restaurants anyways.  I go there for the wine, and the wine that Gilles brought that night was about to do a serious number on me.
Despite the cheap red wine glass, I can still remember my first sip of it.  I am always surprised that the French, being born into wine and all, still don't completely get it with the wine glasses.  Unless you are in a really swanky place, it seems like they often times drink great wine in the least flattering glassware they can find. This deficit echoes the quality of their coffee…  I just don't get it…  Well, at least the coffee is getting better…  After my first smell and taste of this thing, I put the glass down and smiled.  It tasted special, even in those crap glasses.  It was a bottle of Thierry Richoux's 2007 Irancy.  My business partner Donny, who was there at the time, had reservations about us importing it.  I understood his reaction given that it was a fairly esoteric category and the demographic for this type of wine was quite small –at least it was then. Also, the fact that Ted loves it doesn't mean that everyone will –yeah, I get it…  It's easy to buy a case of wine; purchasing a pallet of esoteric stuff, however, involves serious commitment.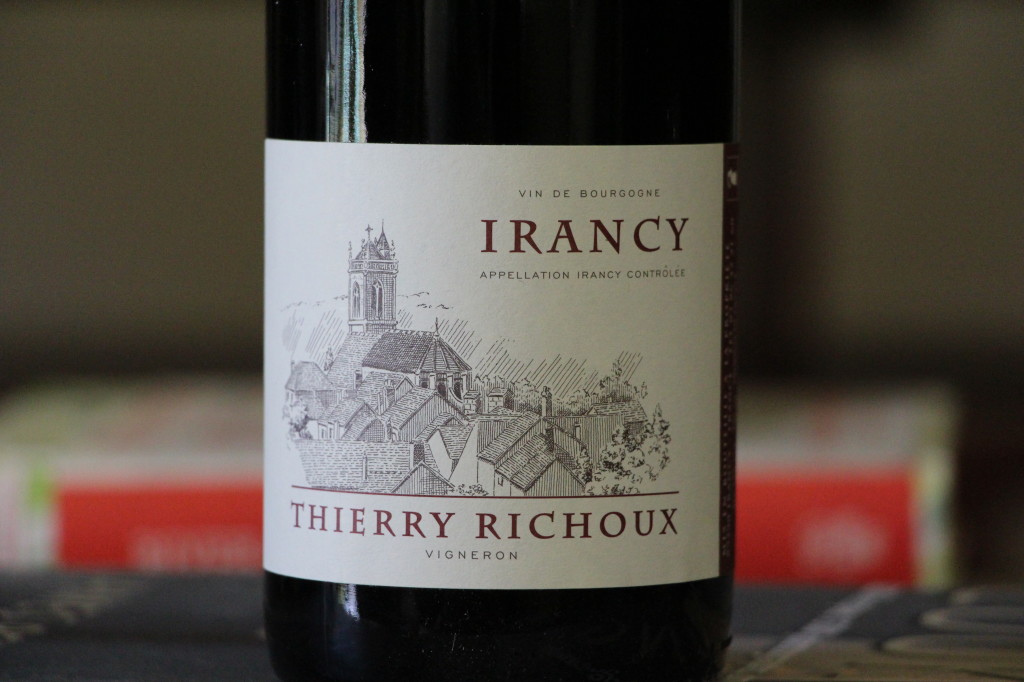 Six months later, I returned to Chablis to visit Thierry Richoux, specifically because of that bottle.  Gilles had told me that this guy sends only a limited amount to England along with just a smattering to some of the better restaurants in France.  The shocker was that he doesn't export to the United States –at all.  Given how good the wine was, I was surprised that no one had successfully hit this guy up yet.  Also, given that he has about 45 acres of vines in Irancy, that's a serious amount of wine going out of the cellar door direct to private customers.  That's about the same amount of vineyard land that Bruno Clair has!  Crazy…  I thought that this kind of practice only occurred in the States with these big ugly California cult wines and their fancy tasting rooms. Anyway, I was back in Chablis to see what this guy was all about.  I loved that first bottle so much that I was sure I had a winner on my hands.
Visiting new potential producers to import for the first time can be a challenging enterprise.  Even if they are really good, I always try to talk myself out of importing them.  I always think: "How is it possible that all the stones haven't already been turned over in France?"  "This wine's really good, so what's the catch – how is it that no one is importing this stuff already?  Surely I can't be the only one who thinks this wine is great…"  After importing wine to California for only four years, I can confidently say that many stones have NOT been turned over yet.  It seems like they are falling from the sky these days!  Around every corner, there is someone changing they way their father used to do it, and then they blow up a few years later.  Thierry Richoux was one of the most, if not the most, magnificent stone that I've turned over.  As a French wine importer, if Richoux were the only stone I'd be the first to turn, I would be just fine with that.  Believe me, if you told me what I was about to experience at Richoux's cellar, I would've looked at you out of the corner of my eye, and smiled, thinking you were overenthusiastic and nuts –like me.  The truth is, what I experienced at Thierry Richoux's knocked me back pretty hard.
The night before my first face to face with Richoux, I was in Champagne with one of my favorite friends Matt.  He's a cool guy and a talented artist. We only talk every nine months or so, but it doesn't matter: I really like catching up with him about all the time in-between.  Matt flew with me to Amsterdam a week before and we worked our way down from there.  We were hungry when we arrived in Reims, so we went to this restaurant located on the city square –it was jammin'! I was happy to practice my French with the waiter; we were chatting it up quite a bit.  It was good a warm-up for the next day.  I ordered moules frites, one of my favorite French dishes.  I only wish I had known before eating them that the mussels were going to be a two-day affair…
When we –Gilles, Matt and I -arrived at his house, Thierry came outside to greet us and walked us down into the cellar.  It was obvious that Gilles and Thierry were tight.  I knew that Gilles loved this guy.  We started with a glass of Cremant.  It was, and still is, the best Cremant I've had in France.   The bubbles were like those in beautifully crafted vintage Champagne: sleek, racy and super fine.  This wine, with all of its delicate red fruits, stirred me up.  The second time I visited Thierry, I asked to taste that Cremant rosé again.  Thierry looked at me puzzled and said that he only makes a Blanc de Noir, but not a rosé.  I was thinking, WTF? I swear it was pink!  It's made with all Pinot Noir and sings with aromas of red current and strawberry skin for days!  But with proper lighting, you can clearly see that it is not pink.  Funny thing is, recently I've shown the wine a few times to my buyers in LA and they've asked to order Richoux's sparkling rosé.  The impression of that rosé with no color is just that strong.
We downed the Cremant and then headed to the barrel cellar. The mussels from the night before were starting to tear my insides apart; the pain was so intense that I had to excuse myself several times during the tasting.  I couldn't concentrate at all.  The worst part was that each time I came back to cellar, I thought: "This can't be happening, the wines bear hardly any resemblance to what I tasted in Chablis with Gilles six months ago. I had one single bottle, dreamt about it for months, and now we are here and I can't relate at all to what we are tasting".  Maybe I was flat out wrong about this Irancy thing. Maybe Gilles too –he said Richoux was the best.  Best or not, I wasn't getting it.  They were intensely acidic and tannic, and at the same time, light and hardly aromatic.  I think the aromas were quiet mostly because Thierry skirts the edge with reduction in his winemaking process, which tends to shut down the nose in the cellar.  It's a classic winemaking technique to keep the aromatics intact for the later years in the bottle. In some cases, however, it may never go away –it's a real art to make wine like this.  It seemed like Thierry was speaking French a mile a minute –I couldn't decipher a damn thing he was saying.  My brain was so twisted inside the glass that if you were speaking English to me I wouldn't have understood what the hell you were saying either.  I was so lost in my head. You remember that old commercial about your brain on drugs? You know, the one with the egg in the frying pan.  That was me. I was toasted…. Finito.
We went back into the tasting cave.  At this point, I didn't know what to think.  It was difficult to think.  I was just trying to keep it all together.  Thierry kept looking at me with patience and empathy.  He knew I was really hurting inside (he could see it on my face) but for my sake, he treated me like I wasn't –that made me feel way more comfortable.  He brought out the first wine for me to try.  At that point, I just wanted to go back to the hotel in Chablis, and die.  He brought out a bottle of that 2007 Irancy that I had six months ago.  It made me sit straight up.  Ok, back on track here.  The brain was clearing and I was going back to the dream.  We tasted the '09, the '08, then the '05. I couldn't tell if my palate was messing with me again, like it seemed to have done six months ago. My mood was quickly changing.  The wines were starting to bend my brain even further.  I kept thinking: "How could they be this clear to me in bottle and be utterly unreadable in barrel??  Was it trickery?  Or pure genius??"  Then, he brought out this "single-vineyard" bottling called Veaupessiot and at this point it seemed like I was starting to lose touch with reality.  I'll tell you, the basic Irancy is a stunner, but the Veaupessiot is a serious wine to be reckoned with by all comers.  As he was bringing out wines for us to drink, I was starting to feel like a total novice.  There I was, tasting wines out of these huge barrels and losing my shit… because I didn't understand them at all in their unfinished state. I've visited a zillion estates in Europe now and have never been mind-boggled like this.
Just when I thought my mind was already blown, Thierry asked if I wanted to try some older wines.  Of course I did! But I was on the verge of mental and physical collapse.  In addition, I was realizing, painfully, how elementary my knowledge of wine truly was. Seized by an existentialist crisis, I started to question the meaning of my life: I have committed twenty years to my passion for wine; yet, today I feel like I know nothing about it. Glass after glass, this man, Thierry, was serving me up major doses of humility.  He brought out a 1999.  I was in heaven.  Then '96. Then '90.  I couldn't believe what was happening.  And man, I gotta tell you, that 1990 was something else…  These were some of the most authentic and ethereal Burgundies that I had ever tasted.  They didn't have the grandeur of the top crus from the Cote d'Or, but to me, they were equally noble.  I was hooked.  I was shocked…  Who is this guy and why is he not an internationally known legend?  He's just Thierry Richoux from Irancy; to me, however, he's a David in a world of Goliaths.  This humble master was dishing me up the most moving red Burgundy outside of the Cote d'Or that I've ever had.  Since then, I have drunk his wines numerous times next to some great wines out of the Cote d'Or and he has stolen the show time and time again.
Tonight, as I drank this beautifully crafted wine by Vincent Dauvissat throughout dinner, I started to reflect on my first experience at Thierry's place.  That's what gave me the urge to write. My mind was slipping into these thoughts and I had to put them down somewhere.  What I realized was that a man cannot simply waltz into a region and start making great, soulful wine with a terroir he doesn't know well enough.  Drinking the Dauvissat tonight helped me understand that in order to make great wine, it's necessary to be there with it, breathe it, drink it, work the land, experience its nature, make mistakes and be smart enough to learn. That day helped me realize that even though wine is always on my mind, I still don't know much about it.  It is hard to believe what Thierry sculpted from that raw and rough material. In California, no one was going to believe what I experienced there until I had bottles in hand. Everyone would look at me sideways when I told my "big fish" story –until they drank a bottle of it with me.  As expected, most did look at me that way, until they sat with me to drink one.
I've gone in search of many wines from Irancy in order to see if one could surpass Thierry Richoux's treasure.  The lovely wine from Dauvissat that I just finished is no doubt a good Burgundy and is clearly the second best producer I've tasted in the appellation –by a long shot. To use wine critic lingo, it was a stellar effort. Despite the hard green notes at the onset of the wine, after many gentle swirls and sips, the wine slowly unfolded to reveal a delicious and beautifully crafted Burgundy.  I like it.  I can't wait to drink the next one.
As good as it was, however, this Burgundy can't be compared with the wines of Richoux.  Thierry's wines are singular and special –they are Irancy.  Thierry is Irancy… He is the benchmark and he is so far ahead of the pack, it's crazy.  He is the Raveneau, the Guiberteau, the Veyder-Malberg, the Allemand, the I Clivi, and the Ferrando, of his appellation.  Thierry makes wines that give me the highest level of intrigue and pleasure –the sign of a great wine.  On my most recent visit, I told his wife Carine, that Thierry's wines have really changed the way I've been seeing wine over the last couple of years.  I told her that in French.  Because my French isn't perfect yet, I think she assumed that I didn't mean it in the profound way I said it to her.  She laughed for about 30 seconds, then she realized I knew exactly what I said to her, and that I meant every word.  They have changed me.  They broke my brain wide open and dumped in infinite ways in which wines can be perfectly imperfect.  Thierry's wines are the height of Irancy, an appellation that is just coming into the peripheral of the American market because the Cote d'Or Burgundies are pricing themselves out of the Burgundy-lover's cellar –It also doesn't hurt to have a famous winemaker like Dauvissat paving the way.
I didn't know much about Thierry and his wines going in, but on that day, he set the stage for a lot of self-reflection, which has lead to a serious renovation for what I thought I knew about wine.  Through him, I have drawn new, unexpected, revealing parallels between the grape and our lives.  There are many secrets that wine will still hold from us all, and it's moments like that that keep my mindful(l) of wine.